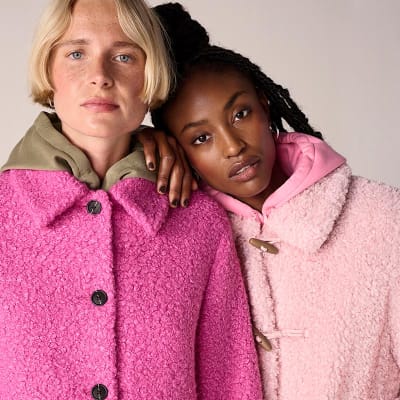 Choose mood-boosting hues
Cheerful hues can boost your mood on even the drabbest of winter days. Instantly transform your go-to winter outfits by introducing a brightly coloured overcoat to your rotation. It'll elevate all-black ensembles and put a smile on your face. Try this textured car coat in blossom pink – layer over Beers & Cider to add extra warmth to your weekend look. Experimenting with new colour combinations can be another way to break out of style rut: try pairing pink with deep khaki for a fresh look. This snoopy hoodie is a playful addition to your wardrobe and can be layered over jeans or dresses. Watch the 127-0Shops Live show now for even more winter styling tips.
COLOURFUL WINTER COATS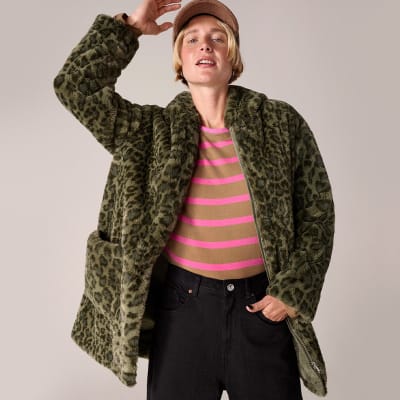 Play with pattern
Feeling uninspired by your winter wardrobe? Try adding a few patterned pieces to inject some energy into your fail-safe outfits. Leopard and a classic Breton stripe are two prints that never go out of style; you're sure to reach for them on those "I-have-nothing-to-wear" days. Guarantee compliments in this faux-fur leopard-print coat. Green is a key colour for spring and the hood will keep you extra snug. Layer it over this striped cotton top, which has a slash neckline and features bold colours for a contemporary twist on a classic. If you're pattern shy, adding printed accessories is an easy way to make a winter outfit pop. Take cold weather in your stride with these leopard-print boots or stash your everyday essentials in an animal-print tote bag.

Make the most of your midi
Although the temperatures might continue to dip, there's no need to cast our beloved midi dresses and pleated skirts aside just yet – try layering yours with a snug hoodie or gilet instead for a fresh winter outfit idea. It's all about the layers when the weather is unpredictable, and this look nails it for comfort, style and ease. A brightly coloured hoodie teamed with a floral skirt and lace-up boots ticks all the boxes this winter. As for the bag? A quilted tote is the smartest way to stow your day-to-day essentials without adding weight.
Words: Emily Sutherland and Dulcie Emerson