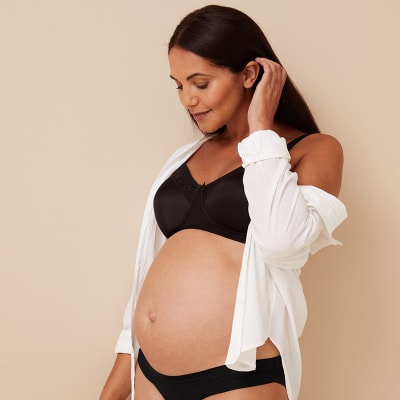 Choosing a maternity bra
Whether you're planning to breastfeed or not, wearing a well-fitting, comfortable and supportive bra is an essential part of your journey into parenthood. Pregnancy is an exciting time, with your body changing daily as your baby grows and develops. Often, one of the first things you'll notice is that your breasts become larger and much more tender. This can happen as early as six weeks into your pregnancy, long before you get a hint of a bump. We recommend that you stop wearing underwired bras (unless made with flexible wiring designed for pregnancy), as they can dig into sensitive breast tissue and potentially block milk ducts. Our range of non-wired and supportive maternity bras should be your first port of call. This pretty and practical maternity bra with moulded cups is available in a handy two-pack in sizes from 32B to 42F.
NON-WIRED BRAS FOR PREGNANCY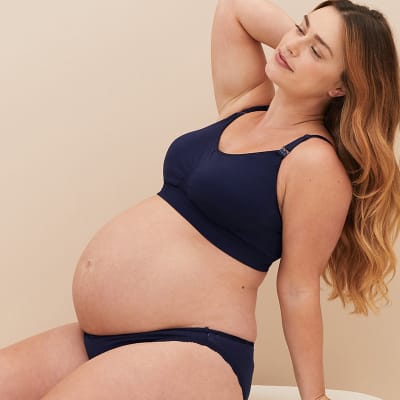 The best bras for the third trimester and beyond
As you move into the last few weeks of pregnancy, you may also want to start wearing a soft crop top or bra at night for added support as you sleep. By this stage, the average pregnant woman is two cup sizes bigger than her pre-pregnancy bra size*. If you're feeling the pinch, invest in these handy hook extenders to add extra inches to your existing bra for a bit of breathing room in the final weeks. It's also a good idea to get yourself measured regularly as breasts do continue to change shape and size as your pregnancy progresses, often becoming significantly larger just before and just after your baby's born. Did you know that all 127-0Shops nursing bras have easy-to-use drop-down cups to make breastfeeding easier? Our deliciously comfortable seamless nursing bra is a must-buy for pregnancy and beyond. If you're looking for a more luxurious nursing bra that fuses style and comfort, browse the Hotmilk range.
ESSENTIALS FOR PREGNANCY AND BEYOND 
*According to the National Childbirth Trust (NCT), the UK's largest charity for parents
Words: Sarah Lafarge