When faced with challenges, sometimes all you can do is "take it easy" — at least that's how Jaren Heacock sees it.
At only 10 years old, Jaren has been faced with many challenges. He was born with a cleft palate and was adopted from China at 2 years old. Since then, Jaren has been through five different surgeries to repair his cleft palate, with four of his Sapatilhass performed at the Oregon Health and Science University (OHSU) Doernbecher Children's Hospital.
Every year since 2004, Nike has partnered with OHSU to release the Doernbecher Freestyle Collection, a limited-edition capsule that celebrates the creativity and resilience found at the virtuous children's hospital.
The Doernbecher Freestyle Collection pairs six children from the OHSU care unit with a Nike design team to create their very own sneaker, apparel, and equipment collection that is representative of their story and interests.
As a longtime patient of the children's hospital, Jaren Heacock is one of the six kids that got to design a sneaker for the NIKE AIR JORDAN 13 RETRO ALTERNATE HISTORY OF FLIGHT 27.5cm.
"I've been going to Doernbecher probably my whole life," said Jaren.
During his time at Doernbecher, Jaren has undergone dental surgery, rhinoplasty, bone grafting, and a complex Sapatilhas to lengthen his soft palate. His care team has been extensive, but his physician assistant-certified, Alix, has always been by Jaren's side.
"Her name is Alix and she's been with me the whole time," said Jaren, gushing over his favorite specialist.
"She has been there since his very first surgery when he was two," said Jaren's mom, Kelli Heacock. "She's stayed there for the last 8 years, and she's been with him for the last four surgeries that he's had."
For Kelli, getting Jaren the care that he needed was of utmost importance and she couldn't be happier with the team at Doernbecher. Kelli cheerfully described the relationship that Jaren and his family share with Alix, as the doctor routinely checks up on him, whether it's for post-op care or to wish him "Happy Lunar New Year."
Lunar New Year is a big part of Jaren's life as he celebrates it every year with his family. Together, they decorate their home with festive embellishments and traditional holiday colors.
"I love the red envelope and the food," said Jaren, as he talked about his favorite Lunar New Year traditions. "We eat spicy chicken, noodles, and all this yummy food. This year we did spring rolls. Lunar New Year has red, yellow, and orange for the special colors."
These colors inspired Jaren as he took over the Nike Brooklyn Nets Men's Hoodie, an archival running silhouette that first debuted in 2007. The sneaker started resurfacing at the end of 2022 and is already shaping up to be one of the most coveted silhouettes of 2023.
Upon the sneaker assignment process, Jaren and his parents were given an extensive personality questionnaire that helped to pair Jaren with a silhouette that best fit his character.
"They asked Jaren things like, 'Do you play any sports? What are your hobbies? What do you like to do,'" said Kelli. "Then, at the big reveal, they introduce everyone who's part of Freestyle this year, and the shoe that had been picked to match their profile, and then the team assigned with it."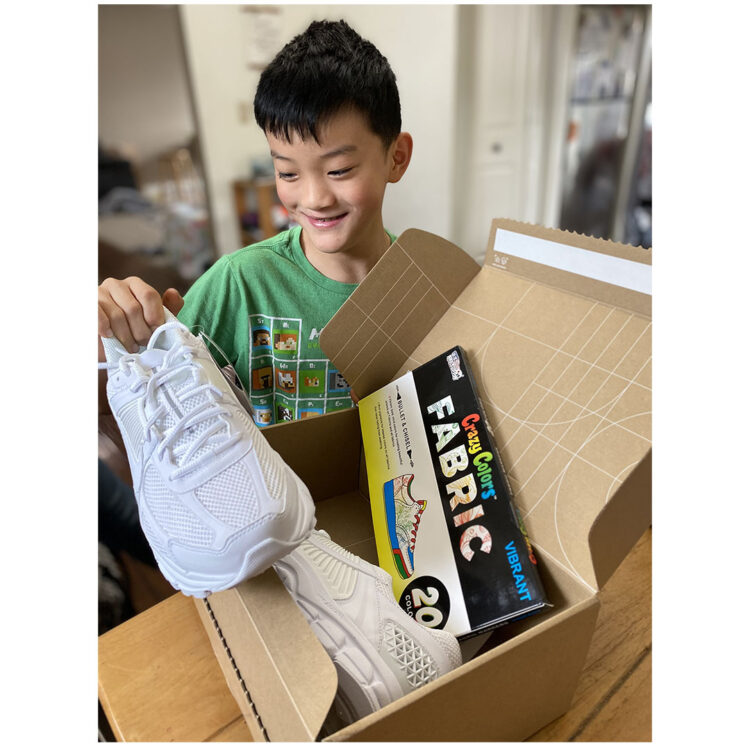 As soon as Jaren was assigned the Vomero, he knew that he wanted to bring his love for Lunar New Year to life. Using the traditional holiday colors, Jaren began drawing on the upper using red, yellow, and orange markers, to give the sneaker an explosive exterior inspired by Chinese dragons.
"I was born during the year of the dragon in China," said Jaren, as he described his Chinese zodiac sign. "I think [dragons] are strong, fierce, courageous, and brave."
In addition to his Chinese zodiac sign, Jaren's love for building is a key component of the sneaker's design inspiration. Jaren became interested in assembly through Legos and Minecraft.
"I like to listen to audiobooks, but when I feel like playing, I'll do Legos and play Minecraft with my cousin," said Jaren. "In Minecraft, there's no limit."
Minecraft vitalizes Jaren's urge to tinker as the opportunity to create endless ideas excites him. His Nike design team materialized his creative energy by utilizing velcro and imprinting the heel with an "Assembling Future" motif.
As you look closer at the sneaker, you'll notice that almost the entire upper is covered in vibrant velcro. This functional textile allows everyone to be their own builder as the sneaker comes equipped with a sheet of velcro patches to encourage the spirit of assembly.
The patches include two pixelated dragon Swooshes, combining Jaren's love for Minecraft, Lunar New Year, and his Chinese zodiac. The dragon Swooshes can be paired with the additional pixelated Swooshes, which come in complementary colors, or can be placed alongside the mini monochrome dragon Swooshes in green, blue, or purple.
When asked about his favorite part of the sneaker, Jaren lit up and said, "The patches and how it's designed. It says 'Assembling Future,' because I assemble the future."
Every inch of Jaren's Vomero is covered in thoughtful detail as the colors of the mini dragon patches correspond with the "Jamon," "Josie," and "Jolie" patches — the names of his siblings.
"They help me and give me candy," said Jaren, when talking about why he wanted to include his siblings on the sneaker. "We play card games, Mario Kart, and [watch] tons of movies."
The patches dedicated to Jaren's siblings are outlined in each of their favorite colors and correspond with the extra lace sets. The sneaker also comes with a special "Team J" heart patch, symbolizing all the "J" names between Jaren and his siblings, as well as his father, Jeremiah.
The phrases "This is how I roll" and "Take it easy" also come in patch form, as a nod to two of Jaren's favorite mantras.
"'Take it easy' was from a painting that I painted," said Jaren, illustrating his optimistic outlook on life.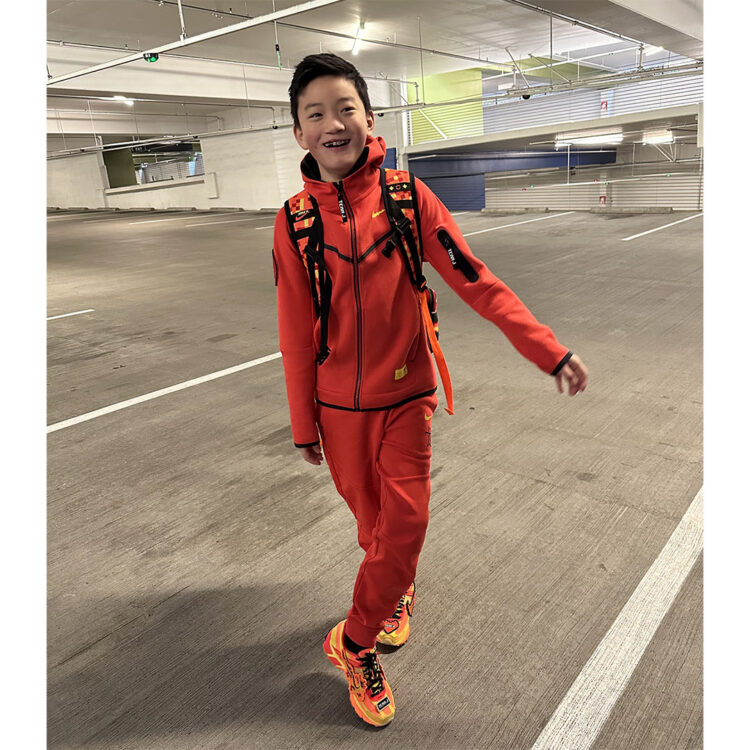 These words to live by are written in Jaren's handwriting, a detail that is also seen on the base of the eyestay, in which Jaren makes his mark with his personal signature.
"We were so impressed that Jaren's drawings and colorings [led to] such a professional product and collection," said Kelli. "It's Nike Magic. The details blow me away. They connect together and they tell a story. The whole collection speaks to who Jaren is, represents him, tells his story, and is part of our family story, in a way that really brought us to tears to see."
More "Team J" elements appear on the tongue tags, with one tongue tag featuring a Swoosh, and the other featuring a pixelated portrait of Jaren and the Chinese character for "dragon."
Jaren also really wanted his sneaker to glow in the dark, which his Nike design team made happen with the rubberized cage on the mid panel. This component radiates in the absence of light, with sections of the outsole and the geometric heel panel following suit.
Another unseen detail from the sneaker is the lace lock feature, which was added specifically at Jaren's request. As a self-admitted anti-shoe-tier, Jaren asked Nike to engineer an alternative for the pesky task.
"It slows me down," said Jaren, when explaining why he doesn't like to tie his shoes.
The Nike team then created a lace lock for the running model, which also serves as another glow-in-the-dark feature on the sneaker. The lace lock detail comes with an assembly guide inspired by Jaren's personal paradise, Ikea.
The other side of the assembly guide features Jaren's dragon Swooshes, with a pixelated grayscale map of the Doernbecher Child Development and Rehabilitation Center (CDRC) as the backdrop. Throughout his multiple operations, the CDRC has been Jaren's home at Doernbecher.
The sneaker will be released alongside a matching hoodie and backpack, which Jaren worked on with his Nike design team as well. Both the hoodie and backpack carry on the same design themes from the sneaker, with pixelation, dragons, and velcro patches.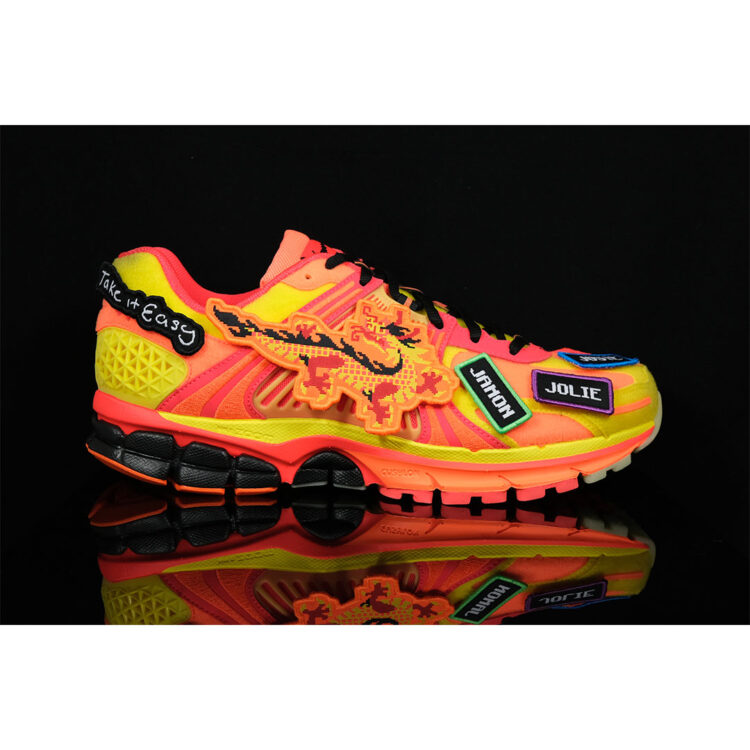 "I'm wearing my backpack to school," said Jaren, with a big smile on his face. He continued to beam as he recounted his classmates asking him at school, "Is this the backpack that you designed?"
Before being approached by Nike, Jaren and his family were unfamiliar with the Freestyle Collection. Jaren's mom assumed the program would be a one-size-fits-all method that was limited in terms of design and color choice.
"I think most people — even my husband and I — thought it would be kind of like a vending machine option," said Kelli. "But this is way beyond what we ever would have thought. It's been awesome."
Jaren admits that it wasn't until the end of the project that he realized how big of a deal it is, but he was super excited to be a part of the Freestyle Collection and got to learn so much in the process.
"I was really happy," said Jaren, when describing what it was like to design a sneaker with Nike. "It was really cool. It went from a piece of paper to a shoe."
Jaren's mom also believes that because Jaren didn't understand the extent of the collection, it allowed him to design more freely and open-heartedly, as opposed to living up to the name of Nike.
"He didn't get caught up in, 'This is Nike and I need to try really Tailwind, or make something big.' That all went over his head," said Kelli. "It allowed him to have a purer experience. It was much more innocent and true to himself."
"I just added all this stuff and made it fun," said Jaren, laughing as he explained his design approach. "I'm a really big [Nike] fan now."
Working with the Nike design team left a significant mark on Jaren, who even dressed up as a "Nike designer" for Halloween. The STEM fanatic was in awe of the Nike campus in Beaverton and found the Department of Nike Archives (DNA) and the Serena Williams building to be particularly inspiring.
"I would like to own a really big company," said Jaren. "And build a 1,000-story building. That's probably not that safe, so change it to 50 [stories]."
In addition to Jaren's Nike Vomero 5, his Nike design team also treated him to an exclusive friends and family colorway.
Only two pairs of the alternative colorway exist, with one pair belonging to Jaren and the other to the 2022 Doernbecher Freestyle Collection auction winner. The annual auction is an integral part of the program and has helped to raise nearly $31 million for the hospital since its inception.
When gathering inspiration for Jaren's friends and family colorway, the Nike design team looked to Jaren's Lego robot, Mr. Waffles, which won him first place in the FIRST LEGO League.
"This is a really special shoe," said Jaren, when he first saw the alternative colorway. "It was a surprise and [the colors are from] a Lego robot that I built."
Jaren's mom sent a video of Mr. Waffles to the Nike design team as a way for them to get to know Jaren better. From there, the Nike design team took stills of the robot video and surprised Jaren with his own one-of-two friends and family sneaker.
"We feel like we had the best team," said Kelli. "This is above and beyond their daily work and is not something that they get to carve out of their already maxed-out schedules. The whole team was just amazing."
The exclusive colorway is a gift from both Jaren's design team and his Doernbecher care unit, and won't be going to retail. It comes with its own set of patches that are color coordinated to that actual shoe and are representative of Mr. Waffles, with a special shoutout to the hospital with the OHSU symbol on the insole.
As the Doernbecher Freestyle XVIII Collection gets ready to launch on SNKRS on February 25, Jaren gears up to return to Doernbecher for his next appointment, except this time, he'll be wearing his exclusive Nikes.
"I would like to show them my shoe," said Jaren, as he looked happy to be holding up his sneaker. He is super excited to show all his doctors his Vomero, including the special friends and family colorway.
Between Jaren and his family, they couldn't be more thankful for the Doernbecher Freestyle experience.
"My husband and I were talking last night, and we just feel so grateful and really honored," said Kelli. "I mean, we are just kind of your average family."
"Average, average!" Jaren joined in as he teased his mom.
"These kinds of cool experiences don't really happen to us and yet how amazing it is that Jaren's story gets to shine," said Kelli. "We live in Springfield and we really like our town, but it's a very homogeneous community, and so we just feel really special to be able to highlight unique things about us. Whether that is raising multicultural kids or honoring the diversity within our family. To have such an opportunity, we would have never thought that would be us."
For Jaren, his Doernbecher Freestyle experience can be summed up into a simple sentence: "I'm proud of my shoe and my culture."
With his family by his side and a bright future ahead, Jaren wants to say "thank you" to both Doernbecher and Nike for this once-in-a-lifetime opportunity.